Identify, evaluate, and treat risks
In the security field, Risk Management across an organization can be a massive challenge. Ensuring your organization is working conforming to the company policy and protecting against a complex and growing cyber threat landscape, is not an easy job!
Meet today's and avert tomorrow's challenges!
RESPONSUM has everything you need to handle the challenges you cope with in managing risks. Our integrated Risk Management Module facilitates collaboration and risk visibility to increase the effectiveness of your risk management programs.
Collaborate with stakeholders
Identify risks across the organization
Create a custom risk strategy
Built upon our powerful foundation, the Risk Management Module allows you to identify and understand risks being faced across the entire organization: business processes, assets, processing activities, entities, or vendors. Centralize all these risks in the risk register.
Create your own risk matrix based on custom impact and probability levels. Evaluate risks across different domains: finance, image, customer loyalty,… The risk matrix is an effective tool that assists you in consistent risk evaluation by always considering the probability and the impact level.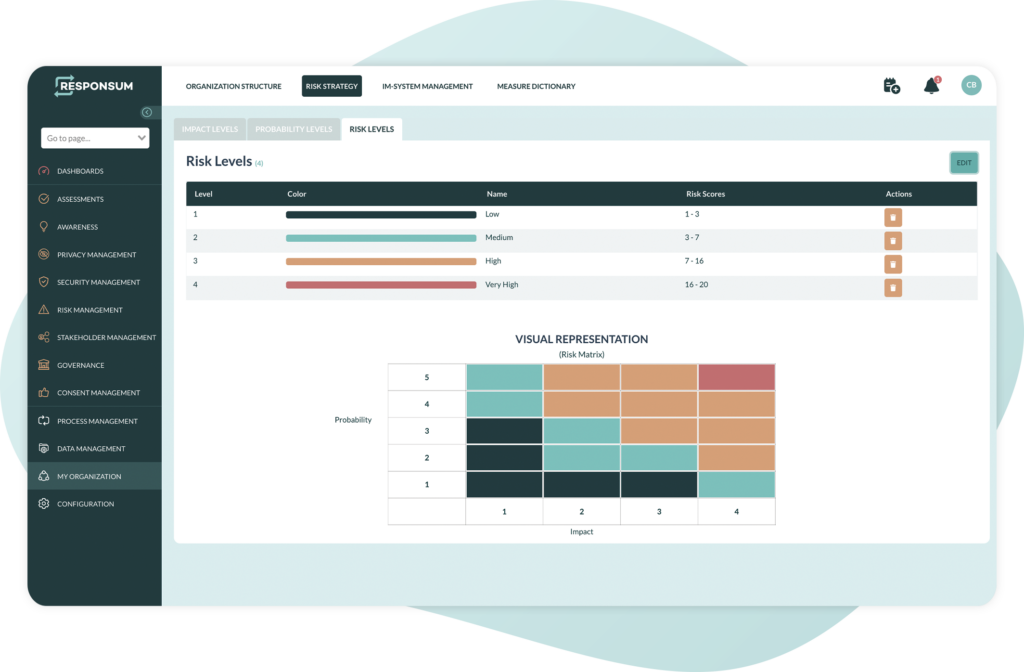 Determine the level of treatment plans required for each risk level. RESPONSUM helps to generate and record potential options for risk treatment: accept, avoid, control, transfer and not handled. To coordinate all activities that ensure risk treatments are implemented, RESPONSUM offers an intuitive activity plan.
Looking to automate your Privacy & Security administrative work?
Book a free demo with one of our consultants today.
Don't worry, they won't bite.