Serve the right cookies to your visitors with our
Cookie management
Control user consent and the use of cookies.
With Cookie Management you meet GDPR requirements, without hurting the look and feel of your website. Present your website users with clear information on how their behaviour is to be tracked, and offer simple, intuitive controls for explicitly granting, and revoking consent.
Prevent cookies from being placed on a user's computer until they have given their explicit consent via an affirmative act.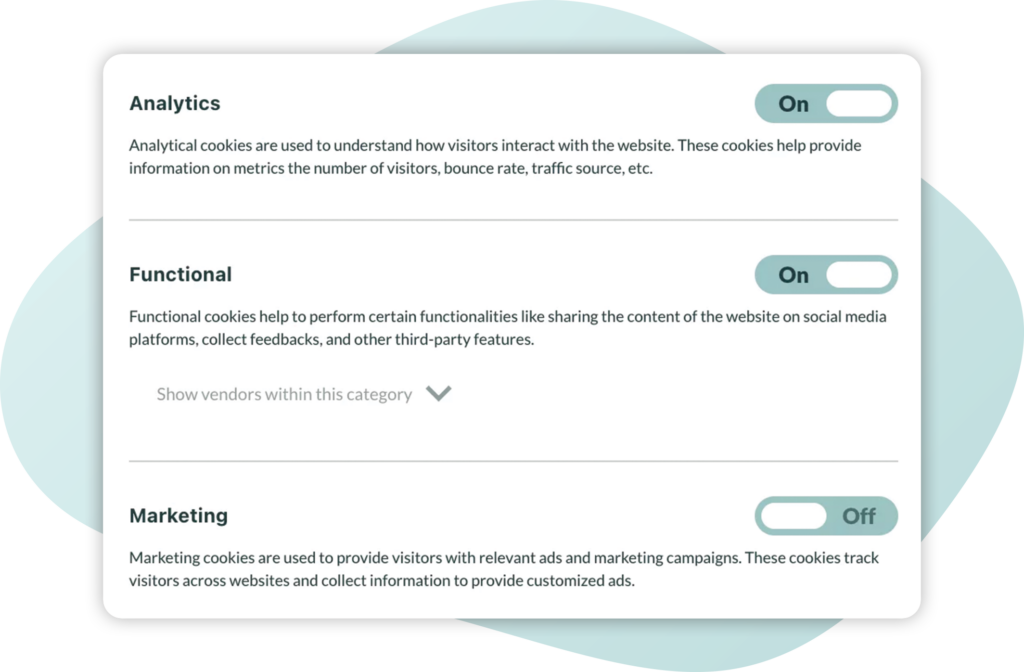 Keep your users informed about the types of cookies your site uses and be in line with GDPR requirements. You can customize your cookie categories and ensure your users can always make an informed decision.
Log and view consent records and maintain detailed receipts for visitors of your site. The user is identified by a unique, anonymous cookie set on their device. As the cookie does not contain any identifiable information at this point, its use is compliant with GDPR.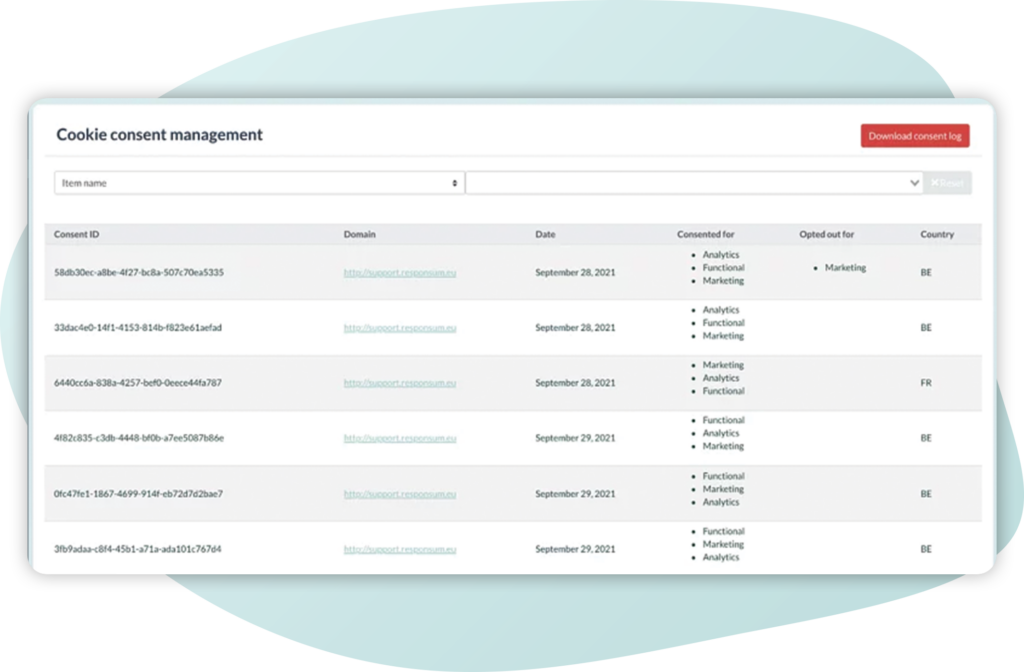 Would you like to have a glimpse of all the possibilities and options you have with RESPONSUM?
What's more with RESPONSUM?
Facilitate collaboration across the organization ensuring that cross-departmental knowledge is incorporated.
Select what notice is provided to the data subject in relation to a processing activity.
Perform and centralize DPIAs, balancing tests, … and link to the Record of Processing Activities.
Centralize all legal obligations and link to the Record of Processing Activities.
Complete audit log including date, time and changes made.
Version history for each processing activity is stored within RESPONSUM to support DSAR and potential audit needs.
Fill in the form and find out how RESPONSUM can help you with Cookie Management. We'll get back to you within a couple of days.
* RESPONSUM is committed to protecting and respecting your privacy. We will only use your personal information to administer your account and to provide the products and services you requested from us. From time to time, we would like to contact you about our products and services, as well as other content that may be of interest to you. If you consent to us contacting you for this purpose, please tick above to confirm we may contact you. You can unsubscribe from these communications at any time. For more information on how to unsubscribe, our privacy practices, and how we are committed to protecting and respecting your privacy, please review our Privacy Policy (www.responsum.eu/privacy-statement/). By clicking submit above, you consent to allow RESPONSUM to store and process the personal information submitted above to provide you the requested communication.