Legitimate Interest Assessment (LIA)
Legitimate interest is a lawful basis for processing personal data under GDPR. Conducting a Legitimate Interest Assessment (LIA) helps ensure compliance and determine if it is an appropriate basis for the processing.
What is Legitimate Interest?
According to the GDPR, legitimate interest is one of six legal bases you can use to process personal data. When personal data is being processed based on legitimate interest, you should perform a legitimate interest assessment – also known as LIA. This is a kind of risk assessment that determines if it is a proper legal basis for processing.
Legitimate interest defers from the other bases because it does not have a particular purpose and it's not based on consent. It is an easy go-to base when the others do not fit. To avoid misuse or fines, an LIA is recommended to help affirm that legitimate interest is a proper base.
When an LIA is conducted, you demonstrate that you have done your research in confirming the legitimacy of your processing. It proves that you are compliant and it helps you to align with the accountability principle.
Challenges of Legitimate Interest
When using legitimate interest as a lawful base, you need to be specific about the purpose of processing, avoiding being vague and unclear. The processing must be necessary for that purpose.
The interests or the fundamental rights and freedoms of the data subject must not be overridden.
Controller and Data Subject
There must be a relevant and appropriate relationship between the data subject and the controller.
Perform before processing
Perform the LIA before starting processing since you need a defined lawful basis.
Carefully assess whether you can use this legal base for your processing.
Easily perform LIAs with RESPONSUM
Streamline your workflow by conducting guided Legal Impact Assessments (LIAs) and defining the scope using clear and comprehensible questions. Ensure that no crucial details are overlooked while receiving recommendations based on the assessed negative impact on the data subject.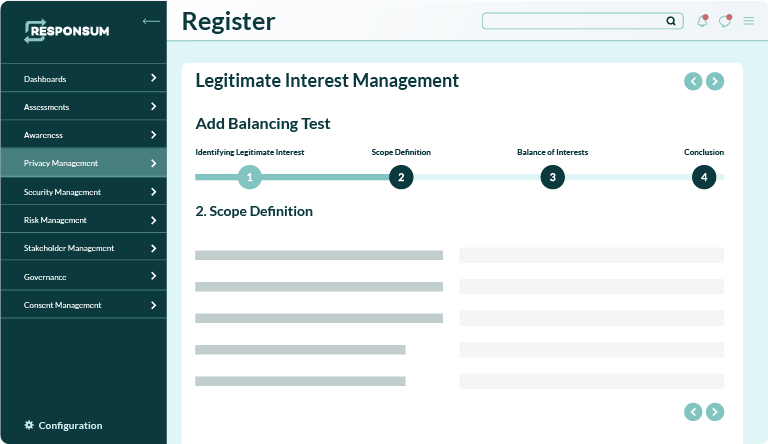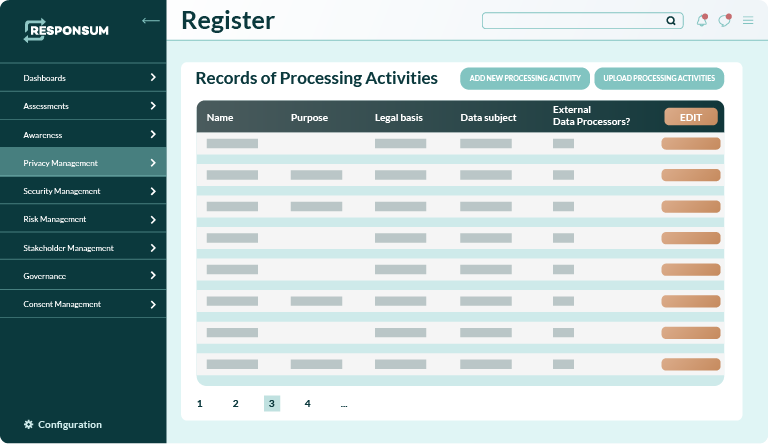 When creating your RoPA based on legitimate interest, you will automatically get a balancing test. Otherwise, seamlessly connect your LIA with your current RoPAs, ensuring that all the information is centralized within a single comprehensive overview.
Get a questionnaire to assess the balance between the interests at hand and the rights of the data subject. The results will yield a score ranging from 0 to 100, indicating the level of negative impact on the data subjects. This score determines the appropriateness of using the respective legal basis for the processing. Additionally, you can manually input your final decision along with a justification.
Backed by industry experts.
We've got a squad of industry thought leaders to guide our future development plans, but let's be real: what matters most is what our customers want and how they feel.
That's why we've set up a customer advisory board to hear you out and shape our roadmap accordingly. We're all about striking a balance between making those quick operational wins and planning for the big picture. Together, we've got this!
Not just a tool. A solution.
Trusted by industry leaders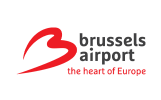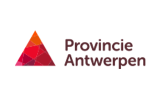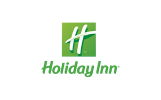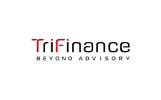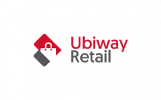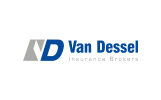 Book a free demo with one of our experts today and take the first step to perform LIAs easily.